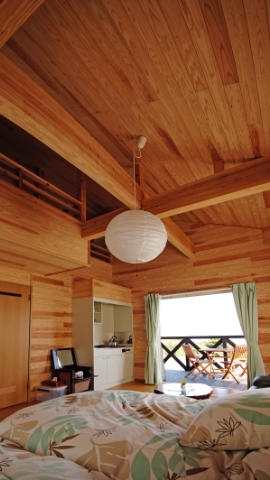 Area of the room is 17 ㎡.
The total occupation area is 40㎡.


There are three windows in the room.
The floor is wooden flooring.
There are a sofa and a table.


There is the Yakusugi table which an owner made.table of YAKUSUGI


It is in only 3 room.

The wall is made of cedars.


Inside the cottages are large cedar beams on the ceiling of a high colonnade.


You may be relaxed by room of the cedar colonnade.

The rooms are filled with the fragrance of the cedar.


The room is no smoking .
Please smoke on the verandah outside..
The loft is area of approximately 7 square metre.
When you stay in 4 persons, 2 persons sleep at the bed of the first floor, 2 person sleep at the futon of the loft.
You climb it with a ladder.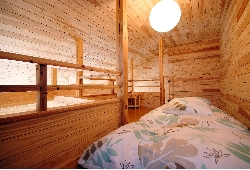 There is private balcony in every room.
Area is approximately 8 scuae maters.
There is the roof on balcony.
From balcony, you can overlook the sea of Yakushima.
You can look at skyful of stars at night.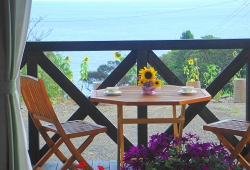 Each room has a bathroom.
The bathroom offers a bathtub, shower and toilet.
The amenity has a towel, shampoo, body shampoo,toothbrush.
There is Yakushima Onsen of the JR hotel(1000 yen) and Onoaida Onsen(200yen).
Onsen is hot spring.
It is ten minutes by car.
Please go to that Onsen.


There is a wash let restroom to the front ridge.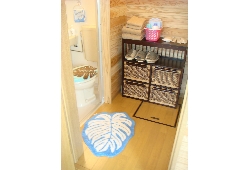 There are a case containing toilet articles and a dryer. (free)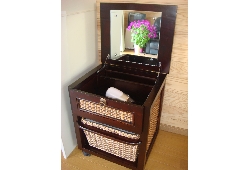 All cottages have a kitchen with the necessary utensils.
A hotplate and a kettle are provided for the mini-kitchen.
Because there is the mug cup, you can drink tes when you like.
There are the brief cooking utensils such as a dish and a frying pan, the pan.
In addition, there is the mini-refrigerator of 1 door, too.
Because it is a mini-kitchen, you can not cook for full-scale cooking, the dish of a great number of people.
The hotplate is not IH.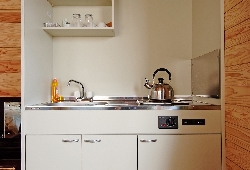 The entrance hall is extensive with approximately 4 square metre.
There are an umbrella, clocks style sandals, shoes dryer (free).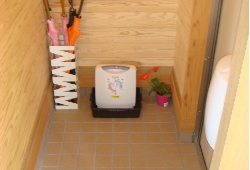 In each room, you can use wifi in free of charge.
At the time of the bad weather, the electric wave situation may worsen.
There is not the PC for rental.
A front house has a washing machine, the dryer.
It is washing machine (with the detergent) 100 yen, dryer 400 yen.